---
---
FILLERS
Filler injections are the perfect treatment for replacing volume at these key points, restoring youthful curves, enhancing certain facial features, and boosting hydration for an overall, naturally rejuvenated appearance. 
Filler injections contain a smooth gel made from hyaluronic acid (HA) to Organic ones, which is a naturally occurring substance in the skin that works to stabilize  structure, attract and bind water, and improve elasticity. The fillers fills the space of volume loss which improves folds and wrinkles. It also stimulates skin cell renewal, significantly boosting hydration and improving skin elasticity, resulting in a plumper and more youthful complexion. 
Also Fillers are primarily used to smooth wrinkles around the mouth, eyes, and brows, to lift and enhance cheeks, to plump lips, and to soften nasolabial folds. It can also be used to smooth chin wrinkles, rejuvenate hands, and even fill in deep acne scars. Some also use filler to change the shape of a patient's face, including filler nose jobs and chin augmentation. 
Hyaluronic Acid (HA) Dermal Fillers
These types of dermal fillers are more common in aesthetic clinics. Hyaluronic acid is a natural compound found in the skin. It is responsible for many functions in our body like hydration and joint lubrication. Furthermore, it aids with tissue repair while stimulating the production of the connective tissue that plumps our skin such as collagen.
Organic or Collagen-Stimulating Dermal Fillers 
These types of dermal fillers use ingredients that stimulate the body's collagen which provides long-lasting effects. They are also known as bio-stimulating fillers. These dermal fillers contain safe compounds that are synthetically produced. When injected into the skin this filler will create volume in the area and stimulate the body's fibroblasts to produce collagen.
There are several brands of Fillers in the market; these are differentiated based on their firmness and stickiness of the gel (Please consult our Aesthetic Doctor on the different brands available). In figuring out which level of thickness or stickiness best suit your needs, it'll be based on the area, condition, and result you desire for your skin. The looser your skin, a softer filler might be used to create a more natural appearance.
BEFORE & AFTER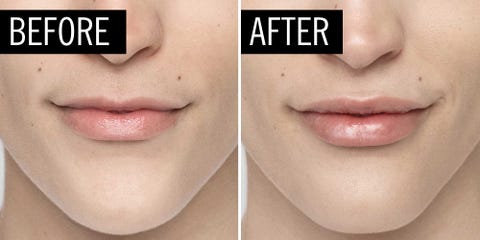 ---