---
---

YOU ARE WHAT YOU EAT
The Easy 123 Pro is the greatest way to assist our body's cleansing system to clear the debris that has been plugging the system. It also help to release the toxin from other parts of the body into the intestinal area for excretion. The phytonutrients will then feed the body so that we can be revitalized again.
Easy 123 Pro is a nutrient-rich dietary health drink, delivering a full spectrum of essential nutrients to restore health from our imbalanced diet and lifestyle.
The essential nutrient include known as "The 21st Century Super Nutrient", papaya enzyme, fiber, fructooligosaccharides (FOS), antioxidants, soy protein, and many more that work synergistically together to support our body by exponentially benefiting strong digestive protection, detoxifications, bowel health and antioxidant health throughout the body.
HOW DOES EASY 123 PRO DETOX WORK?
Step 1- Detox

Soluble fibre absorbs water to transform into a gel-like and sticky substance that helps to flush out the accumulated toxins. Insoluble fibre helps to mobilise the toxin and cleanse the colon system working as a sort of colonic flush. FOS (fructooligosaccharides) is a form of healthy sweetener that is a pre-biotic dietary substance that can stimulate the production of beneficial bacterial health in our colon in order to aid proper nutrient absorption.
Step 2 – Restore
Once your body's processes are interrupted or affected, it needs help to restore proper balance. superfoods containing super nutrients in Easy123 Pro can help you achieve optimum health. The papaya enzyme and soy bean protein has an abundance of nutrients to stimulate overall health restoration by promoting anti-inflammatory responses, the immune system, help to dissolve fats to be purged from the body, enhancing skin smoothness and suppleness plus speeding up wound healing process.
Step 3 – Rejuvenate
Most of us often feel tired easily due to the imbalance of internal processes and the accumulation of toxins in our bodies. We need help to rejuvenate our bodies from within. Easy 123 contains a type of super nutrient called phytonutrients that are focus extracted from organic components of certain plants and fruits. A phytonutrients in Easy123 Pro promotes anti-ageing process and overall balance in health with extremely beneficial ingredients like green tea, cranberry, red beet, tea polyphenol and citric acid from citrus fruits. 'Polluted' Digestive System VS 'Clean' Digestive System


BENEFITS OF EASY 123 PRO DETOX DRINK?
Drinking Easy 123 Pro is a very convenient and fast way to help you stay nourished. It provides extraordinary cleansing and regenerating effect on the entire body system. Aside from boosting health, 123 pro detox nutrition drinks help:
Regularly flush out the toxin
Absorb excess cholesterol
Break down and digesting food
Promote nutrient absorption
Restore body enzymes
Protect the cell from free radical damage
Prevent oxidative stress
Prolonged premature aging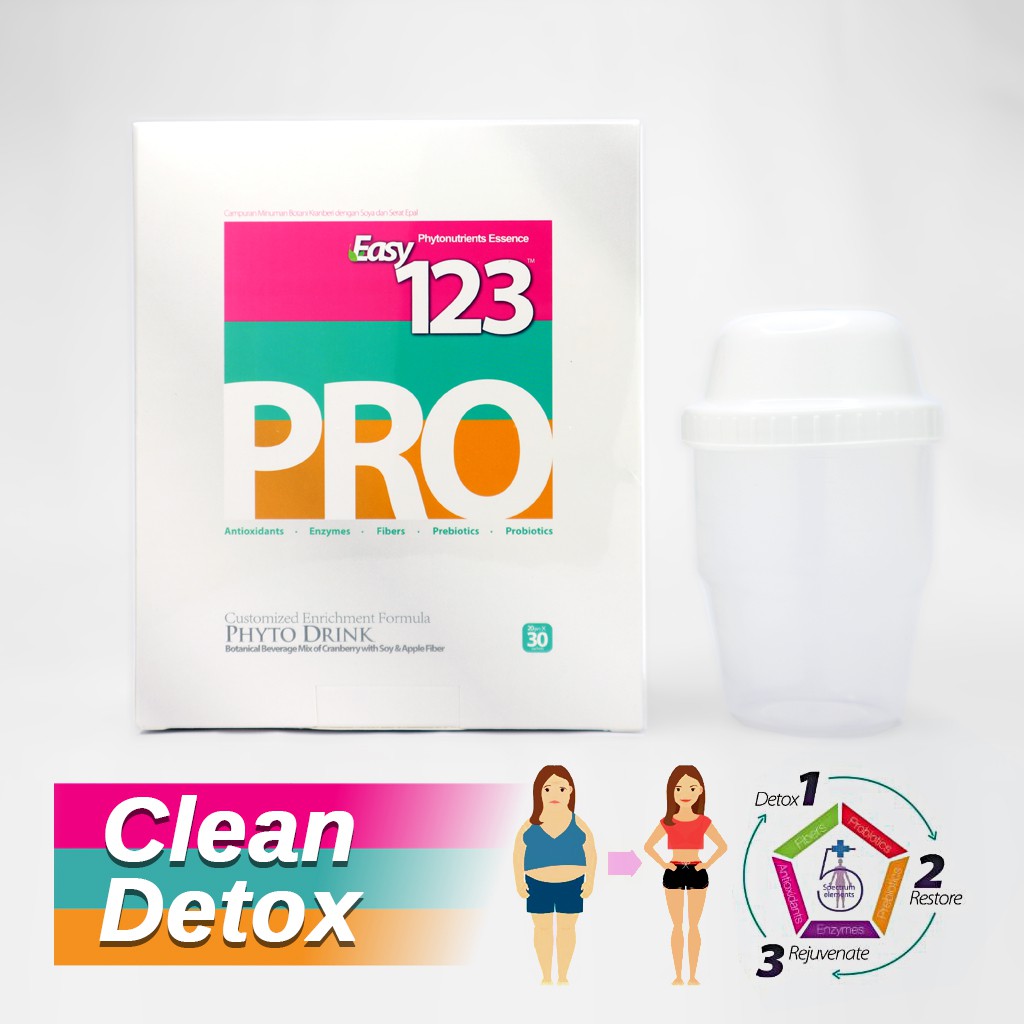 ---