---
---
CALECIM® PROFESSIONAL Multi-Action Cream is designed to correct all signs of skin aging. It works actively by smoothing deep wrinkles and fine lines and actively acts on contour loss, sagging and loss of skin volume and fullness. Our Multi-Action Cream helps renew the surface of the epidermis and rebuild the structural layers of the skin.
The results can be observed in 14 days, with impressive and optimal results in 3 months of use. See your skin get firmer, smoother and younger.
THE SCIENCE

As we age, the cell regeneration cycle slows down and the rejuvenating proteins naturally secreted by the stem cells decrease in number. The skin subsequently takes longer to get rid of the damaged cells and now the signs of skin aging appear, such as wrinkles, discoloration of the complexion, loss of fullness, sagging and loss of volume of the skin.
The Multi-Action Cream is designed to stimulate the proteins responsible for firming and hydrating the skin. Science has enabled us to extract patented derivatives of the umbilical cord membrane, powerful growth factors that have aim to improve laxness and fullness of the skin. 
WHAT ARE THE KEY INGREDIENTS?
This anti-ageing pre-moisturiser cream is blended with CALECIM Rejuvenating Conditioned Media, a component that is patented in 41 territories. This protein-rich component is composed of the following ingredients that help to repair signs of skin ageing:
Soluble collagen;
Hyaluronic acid;
Albumin;
Fibronectin;
Consolidated peptides or glycoproteins.
WHAT IS IT USED FOR?
CALECIM Professional Multi-Action Cream is designed specially to combat signs of skin ageing such as:
Skin laxity;
Skin inelasticity;
Hyperpigmentation;
Loss of facial contours;
Diminished skin fullness and volume;
Deep set wrinkles and creases;
Lack of facial definition.
This cream can be used by patients of all skin types, especially those with dry, normal, or sensitive skin. Patients with mature skin can also use this cream to adequately correct ageing dermal concerns. 
HOW DOES IT WORK?
Healthy skin is naturally smooth, firm, elastic, adequately hydrated, and free from any diseases. These characteristics are made possible due to synergistic effects of various dermal cells like collagen, elastin, and hyaluronic acid. Not only that, these cells are also continuously repaired and replenished via a process known as desquamation. Biological ageing slows down these skin maintenance processes. Hence, the usual rate of growth and repair of dermal cells dwindle rapidly, resulting in the lackluster appearance of the skin and the formation of ageing signs, such as sagginess, discolouration, wrinkles, and loss of facial contours. These ageing signs tend to worsen when they are subjected to further damage caused by external influences like unprotected sunlight exposure, smoking, and pollution. Patients who do not remedy these aesthetic conditions may end up looking haggard and/or older than their real age.
CALECIM Professional Multi-Action Cream is specially formulated with active ingredients to effectively repair those signs of skin ageing stated above. The presence of CALECIM Rejuvenating Conditioned Media is a surefire way to combat skin inelasticity and improve skin fullness by rebuilding the skin's structural layers. This patented stem cell technology contains the following ingredients with their own unique functionalities:
Soluble collagen: Helps to enhance skin's elasticity.
Hyaluronic acid: Binds water molecules to the skin to rehydrate the skin deeply.
Albumin: Maintains skin turgor and fullness.
Fibronectin: Supports skin's network of protein structures.
Consolidated peptides or glycoproteins: Improves intercellular cross-talk for skin rejuvenating process.
The cream is processed using Youth Messaging Technology, a unique product delivery mechanism that encourages the synthesis of important skin glycoproteins (e.g. hyaluronic acid) and restoration of epidermal cell turnover in order to increase skin fullness. The technology also mobilises dermal cells, so that they can move quickly towards a specific direction, especially in the event of any skin injuries or trauma. With regular use, skin becomes fuller, firmer, and well-hydrated.
HOW TO USE IT
This cream is meant to be used as a pre-moisturiser skincare product, twice daily. Patients should gently pat a pearl sized quantity of this cream on the face and neck after these areas had been thoroughly cleansed, toned, and dried. They may then continue with their skincare routine and apply a suitable moisturiser. For optimal results, patients should use CALECIM Professional Multi-Action Cream with other CALECIM Professional skincare products.
WHAT IS THE DURATION OF ACTION?
This cream induces "soft reset" in the skin, causing the skin's renewal cycle to be restored back to the usual 28 day-cycle. The skin-beautifying effects of this anti-aging cream may be visible in as little as 2 weeks, while optimal skin-lifting results should become apparent in 90 days. Patients should use this cream consistently to maintain the results.
IS IT SAFE?
Yes, CALECIM Professional Multi-Action Cream is a very effective and safe product that is developed in an ISO-certified laboratory. Pregnant and breastfeeding patients can also use this cream if deemed appropriate by a gynaecologist/obstetrician.
WHAT ARE THE SIDE EFFECTS?
There have not been many reports of adverse skin reactions following CALECIM Professional Multi-Action Cream usage. That being said, patients may experience pimples despite not having acne-prone skin before. This is because the cream accelerates the epidermal cellular turnover, which can result in breakouts. If patients experience blemishes, then they should cease using the cream for a week and then continuing with the application.
 RESULTS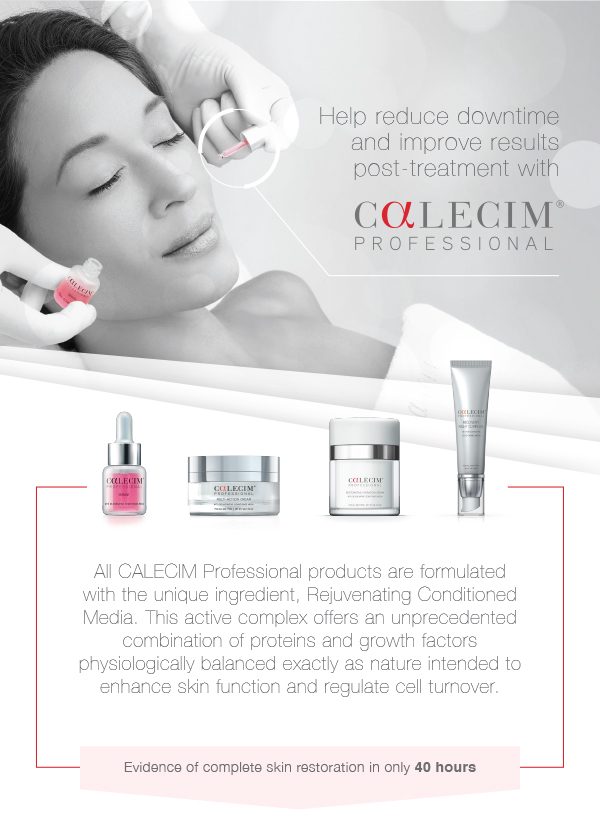 ---