---
---
 Benefits of Nectifirm®
The scientifically advanced technology in Nectifirm® provides three primary benefits :
Significantly firms and tightens skin on neck
Reduces the appearance of fatty tissue under the chin and neck
Dramatically lessens fine lines and wrinkles
Product Authenticity
Be sure you purchase Revision Skincare products from a physician or medically supervised spa. If you purchase the products from other e-commerce sites, we cannot guarantee they are authentic and will perform as tested. Products sold online can be counterfeit, diluted or old formulas that may not be safe to use.
Who will benefit form using Nectifirm®
All skin type, young and mature skin and anyone desiring a younger, firmer looking neck. The aging process begins in the 20s so it is important to begin an anti-aging regimen early.
How to use 
Using upward strokes, gently apply a dime-sized amount onto décolletage, working your way up the neck to the jaw line. Use twice daily, morning and evening.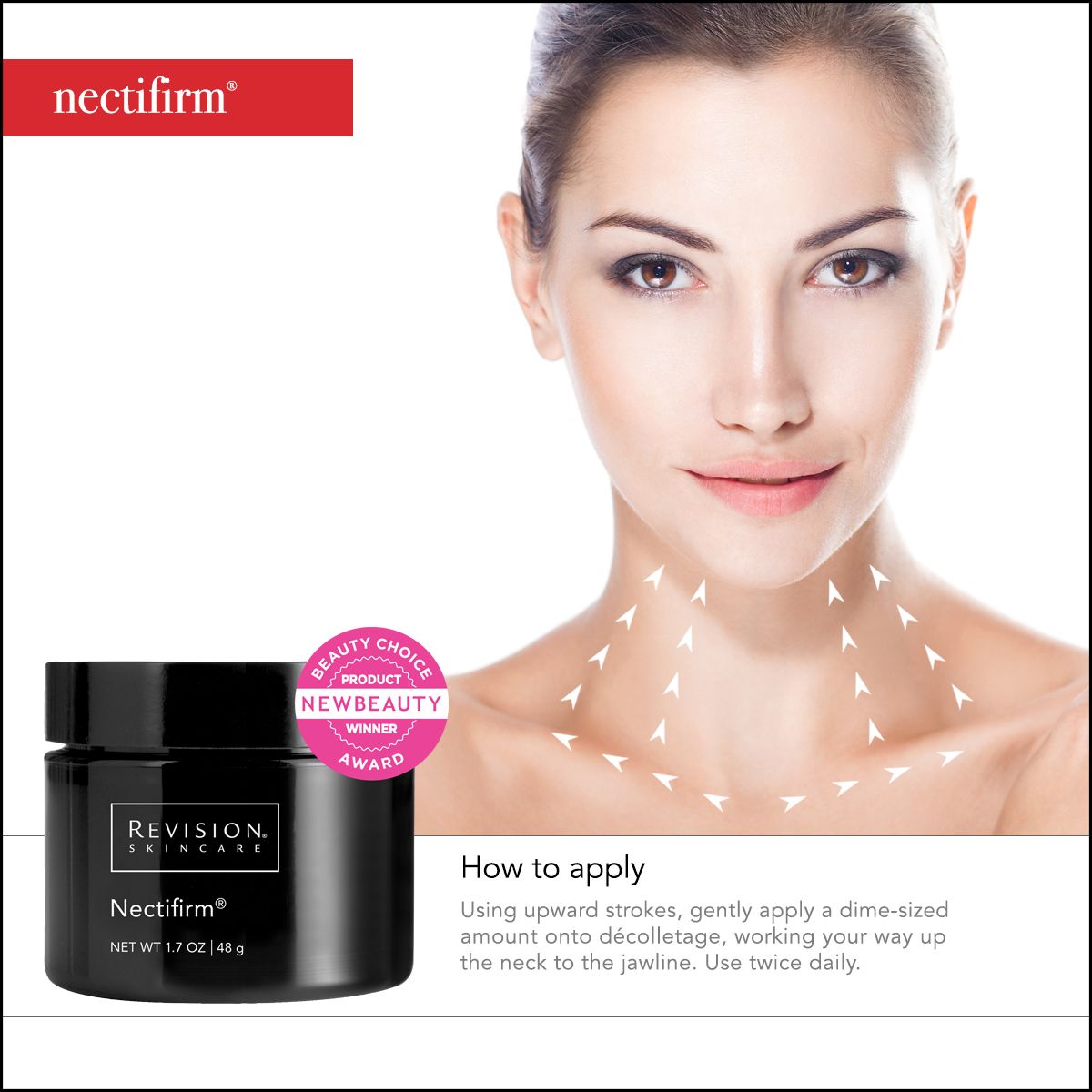 Ingredient Highlight
Nectifirm® contains a blend of proven ingredients that work together to form a highly effective cream :
Clinical trials showed lipopeptide firmed the skin by 40% in 28 days.
A natural protein isolate tightens and lifts the neck
Tripeptide increases collagen production making skin appear thicker, firmer and smoother.
Ceramide/ peptide pairing stimulates fibroblasts reducing the appearance of fine lines and wrinkles.
Biotechnological extract reinforces the cohesion between the dermis and epidermis smoothing roughness and creepiness. Clinical studies showed a decrease in wrinkle depth of 67 %.
Proprietary blend of bamboo, silica, english pea extract and glucosamine increases the production of collagen, elastin and hyaluronic acid so the skin appears hydrated, firmer and more toned.
Plantbased molecule helps slow the ability to store lipids, reduces fat already accumulated and helps prevent the creation of new lipid deposits.
A cocktail of Vitamins C and E protects skin from free radical damage and helps reduce hyperpigmentation.
Before & After

---